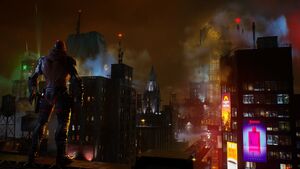 Gotham City is the main setting of Gotham Knights.
Overview
[
]
Gotham City is a fictional city set within the United States best known as the home of Batman. It appears in numerous comic books that are published by DC Comics.
Ridden with crime and with corruption, Gotham is home to a number of notorious super criminals. Gotham City's name comes from the Gothic architecture it held, which built up an almost terrifying atmosphere that best identified it.
Gameplay
[
]
The game allows players to explore the entirety of Gotham's five boroughs.
Gallery
[
]